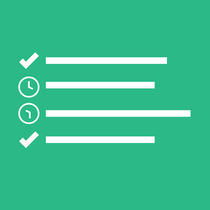 + today list
---
24-hour todo list
Slack command
---
Tired of adding tasks to your todo list and not finishing them up?

Create small tasks that you can finish in a day and add them to TODAY LIST in your Slack workspace.

Each Slack channel has individual Today list.
Finish the task in 24 hours, else it'll expire.
---
---
Setting up TODAY LIST in Slack is simple.
Just click the Add to Slack button to log in to your Slack account and choose a team!
---
HOW - TO
add a task
/today-add followed by a task to add a new task
---
complete a task
/today-complete followed by the task to complete it, before it expires.
---
see today's list
/today-list to list all your tasks.
/today-list all to list tasks from all the channels.
---
Overview
/today-overview to see your weekly performance.
---
FAQ
But, why?

Why not? ;)
Is this even useful?

Yes. The intention of the app is to increase your productivity by making you break down the tasks you are planning for today, into small chunks that can be completed easily in hours, if not minutes.
It automatically attaches a non-negotiable deadline to every task you add so that you complete it in the next 24 hours.
Can I delete a task after adding?

No. Once a task is added it can only be completed. If not completed within 24 hours, it'll expire.
Can I change the 24-hour deadline?

No. You HAVE to finish the task in 24 hours. If it is not possible, break the task to smaller task and complete it individually in two days.
Can you add tasks to other people?

No. You can only add tasks for yourself.
This is intentional because the app wants to increase productivity of a user and I think it is best left to the user to decide if he'll be able to finish the task in 24 hours or not. If we allow others to add task for him, it may be possible that five different persons assign five tasks to a guy which may be too much for him to complete in a day.
Also, this app encourages users to break down big tasks into small chunks which can easily be completed. If others add a single time-taking task to one's 'Today List', it might spillover to next day which will hamper the user's weekly performance.
Can someone else assign a task to me?

No. You are the best person that knows if you'll be able to finish the task today or not. So only you can add a task in your Today List.
---
UPDATES
Now use /today-complete to complete tasks even when you are not in that channel.
---
Developed by Rajat Srivastava.
© All rights reserved.